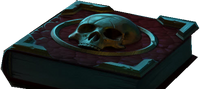 Information on this page is fully updated to the latest official version of the game: 176.02
Miner is an enemy unit encountered on the Mines (floor 1).
Overview
"Miners are alchemically infused convicts that can be found working in the tunnels beneath the castle. The potions they are fed give them a vast increase in strength at the cost of reduced intellect and lifespan. The ruling human aristocracy is more than willing to supply the dwarves with captives for their experiments as long as they receive a share of the profits."[1]
Abilities






Physical Attack.

. Deals 50% damage twice.

Debuffs for 1 turn:

- Target loses all Initiative.

Physical Attack.

. Deals 65% damage twice.

Counter
Roles: Physical damage dealer

, Debuff.
support
Miners are often encountered in the early battles of the Mines and becomes rarer as the dungeon progresses. On the front, they are a dangerous source of physical damage, delivering double strikes to quickly remove Block

from front-line minions and make them vulnerable to subsequent attacks. On higher difficulties, they may start with 2 Block

, making it hard to take them out. Due to having no Ward

protection, Banshee

and Black Widow

can easily apply damage Debuffs on them to manage their damage output. With Fatal Bondage, Black Widow

can even strip all Block

from a Miner with one use. Any minion that can bypass or remove all Block

from them is recommended: Ghoul

(Restrained Slaughter), Skeleton

(Smite),... Miners' damage can be devastating, but they have low Sanity

and therefore are prone to taking heavy stress damage and going Insane

while a Shade

is using Pain Amplification. Pushing a Miner to position 3 or preferably 4 with minions such as Wraith

or Skeleton

may be a good move as this will force him to use his other less damaging ability. However, the minion getting hit will lose all Initiative

.
Dialogue
Ally gets killed: "He's dead? He's dead!"
Getting hit by a critical attack: "I can see my guts...uggghhh."
Going insane : "The dead! The dead are everywhere!"
Using first ability: "Take dat, ya bony shits!"
Using second ability: "My shift will kill me before you do!"
References
Community content is available under
CC-BY-SA
unless otherwise noted.