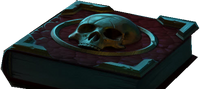 Information on this page is fully updated to the latest official version of the game: 176.02
Alchemist is an enemy unit encountered in floor 2 (Dwarf Tunnels).
Overview
"The Alchemists of the guild preside over the mining operations beneath the castle, having been given full authority by the humans above. For this reason, they have stepped in to personally deal with the undead invasion, lest the rise of Iratus be blamed on them and the humans use this opportunity to restructure the terms of their agreement.

They tend to travel with groups of powerful bodyguards."
Abilities
Magical Attack.

Deals 50% damage to target minion and the one behind it.

- Moves the first target 1 position forward.
- Moves the second target 1 position back.
- Target loses all Armor and Resistance.
Buff.

Buffs until the end of battle.

- Target deals 50% more damage.
Buff.

Buffs until the end of battle.

- Receives +1 Block and +1 Ward.
Counter
Roles: Magical damage dealer

- Buff
, Debuff
support - Block

, Ward

support
Best positions: Any positions (depending on various encounters and situations)
Alchemist is capable of both dealing damage and supporting his allies offensively and defensively. On the front, the Alchemist's attacks effectively remove all Armor

and Resistance

on hit, rendering minions depending on these stats (Dark Knight

, Blood Phantasm

, etc) a liability to their squad. To protect these minions against Alchemist (especially ones who can't raise their own Ward stat), use Ward

provided by Lost Soul

or Bone Golem

and/or have dispelling effects. Note that even with these measures, it is still fairly hard keep them standing due to Alchemist's ability to multi-hit. The ability, however, is mostly harmless to Skeleton

due to his immunity to Debuffs
.
In position 3, Alchemist may attempt to use his supporting abilities while in position 4, he will always use them to spam protection and damage Buff
for strong allies (Berserker, Geomancer, etc). Therefore, it will be very troublesome if he stays here.
Dialogues
Ally is killed: "Keep the body for experiments!"
Receiving a critical hit: "H-hey! These are fragile concoctions!"
Going insane: "Madness is but chemicals in the brain...ahaHAHA!!"
Community content is available under
CC-BY-SA
unless otherwise noted.